The Time is Now! Implementation Strategies for IBH at Academic Medical Centers - March 21
Recorded On: 03/21/2023
This is part of the AAMC Integrated Behavioral Health (IBH) Learning Series: The Mental Health Access Crisis: How academic medical centers can use IBH models as part of the solution.
This session will explore how business and clinical goals, as well as institutional factors intersect when selecting an IBH model. Additionally, identification of workforce and staffing needs for successful implementation will be discussed.

Register for other sessions in the series as they become available here. Please note that you may participate in multiple forums or choose individual sessions to attend.
Coming soon...
In our second webinar, date TBD, representatives from two academic medical centers in various stages of implementation will share their journey in utilizing IBH models at their institutions. They will cover common issues such as workforce, financial and operational exemplars, as well as lessons learned for those interested in implementing similar models.
Dr. Rachel Weir
Dr. Rachel Weir, MD, is the Chief of Mental Health Integration for the Huntsman Mental Health Institute at University of Utah Health (U Health). Dr. Weir has led efforts to expand access to psychiatric services across clinics and educates residents on primary care focused consultation models. She helped to establish the statewide child psychiatry access program and also served as the psychiatry lead for implementation of the Collaborative Care model for depression in primary care throughout U Health.
Dr. Weir leads U Health's systemwide mental health integration initiatives, including overseeing efforts to improve screening, follow-up, and access to care for patients with depression. In her work, Dr. Weir focuses on how medical and behavioral health providers can leverage technology to improve early detection of mental health disorders, standardize mental health treatment, and optimize patient outcomes using stepped care models.
$i++ ?>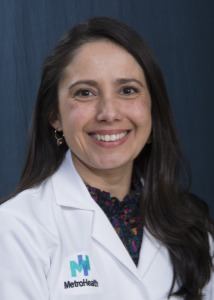 Dr. Lisa Ramirez
Dr. Lisa Ramirez, PhD ABPP, a child psychologist at the MetroHealth System in Cleveland, OH, has witnessed firsthand the profound impact of the COVID-19 pandemic on the mental health of young people.
As a faculty member in MetroHealth's integrated primary care program in pediatrics, Dr. Ramirez understands the potential of integrated behavioral health (IBH) models to expand access to mental health care among the pediatric population. At MetroHealth, a multi-disciplinary care team comprised of experts and learners in primary care, psychology, psychiatry and social work practice side by side in caring for the physical and behavioral health needs of the system's youngest and most vulnerable patients. Their model has produced real results: through a combination of creating training pipelines, warm handoffs, same-day consults, and suicide interventions, the MetroHealth team has eliminated the wait to see a behavioral health provider in their pediatric clinics.
$i++ ?>
Components visible upon registration.