AAMC Building Better Curriculum Webinar - February 12, 2020
Presentation 1 Topic: The Hidden Curriculum of Compassionate Care: Can Assessment Drive Compassion

Medical schools are expected to promote compassionate care among learners. Assessment is a key way to communicate values to learners but can create a hidden curriculum. Assessing compassionate care is challenging; however, not assessing it can communicate to students that such care is not valued. This presentation will describe a study that explored how current assessment strategies promote or suppress the idea that caring behaviors are valued learning objectives.
Presentation 2 Topic: Project Wholehearted: Promoting Humanism, Resilience, and Compassion in Medical Education
Learning to organize, collaborate and lead positive change within our immediate community is the essential rite of passage as physicians and community advocates. The students at New York Medical College (NYMC) recognizes that identifying and uplifting positive change within our own community will better enable us to contribute to societal healthcare justice or larger medical education reform in the future. Join the call to learn more about Project Wholehearted – an attempt to centralize humanism and compassion in medical education.

Please visit the AAMC Building Better Curriculum Webinars webpage for a complete list of future events and special programming.

Sarah Wright
Scientist, Michael Garron Hospital & Wilson Centre Assistant Professor, Dept. of Family and Community Medicine, University of Toronto
Dr. Sarah Wright's research program explores the (un)intended consequences of educational action that occurs in the intersections between assessment theory and practice. Her work is inspired and informed by a decade of experience as a psychometrician at Newcastle University Medical School (UK). This practical experience has given her insight into how assessment frameworks can limit or support educational goals such as fostering compassionate practitioners or striving for social change. For example, she has combined psychometric and critical approaches to investigate the ways in which admissions policies often work to favour culturally and socially privileged medical students, thereby limiting attempts to improve student diversity. Through improved understanding of how emerging education goals transpire within existing education structures, her research seeks to improve education practice.
Victoria Boyd
PhD Student, Health Professions Education, University of Toronto
Victoria Boyd is a PhD student in health professions education research at the Institute of Health Policy, Management and Evaluation, in collaboration with the Wilson Centre, University of Toronto. She completed a Master of Professional Communication from Ryerson University and an Honours Bachelor of Arts in English and Sociology from the University of Toronto. Informed by critical theory and critical pedagogy, Victoria's doctoral research will explore if and how teaching health professionals to enact critically reflective practice influences practice outcomes and patient experiences for children with disabilities and chronic conditions who receive health services and supports at school.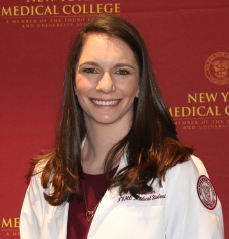 Alexa Cohen
MD Candidate, Class of 2021, New York Medical College
Alexa Cohen graduated from Brown University in 2016 with a Bachelor of Science in Cognitive Neuroscience. While at Brown, she completed research on neurobiological aspects of anhedonia, including how the manipulation of neurotransmitter levels, sex, and early life stress affects anhedonic responses. After her undergraduate graduation, she worked as a research assistant at the University of North Carolina at Chapel Hill. Here, she investigated socioeconomic disparities and how these differences among individuals affect one's health status and access to health care. Since her matriculation at NYMC, Alexa has served as a member of the school's Wellness Committee. In this role, she has been an active supporter and advocate for improved mental health in medical school students. She is a co-founder of NYMC's Resiliency Curriculum, focusing her efforts on content development for the Curriculum's sessions, as well as researching evidence-based practices for improving one's resilience and mental health.
Jessica McMillin
MD Candidate, Class of 2022, New York Medical College
Jess graduated from Amherst College in 2015 with a degree in Anthropology while completing pre-medical studies. She worked for three years in public health on a grant to increase equitable access to food and exercise in Environmental Justice populations in rural Massachusetts. As a medical student at New York Medical College (NYMC), she is interested in pursuing primary care with a public health and social justice lens. In her capacity as Resiliency Program Co-Coordinator and Humans of NYMC Co-Director, Jess seeks to foster community resilience and care in an effort to create a movement of students dedicated to humanizing medical education and beyond.

Components visible upon registration.