The Road to MedBiquitous - June 9
Marc Triola: Keynote
Medical education is in the midst of a transformation, one that has been fueled by new models of educational programs such as competency-based accelerated tracks, greater use of technology in every aspect of teaching and assessment, and the growing use of data and analytics to drive educational decision-making. Medical education is rapidly becoming a sophisticated 'continuously learning' system that consistently and constantly improves. In parallel, our academic medical centers have made dramatic changes in response to the current pandemic that have created opportunities and posed challenges to education programs. The emergency response is highlighting emerging future skills for graduates: practicing telemedicine, health systems science and systems-thinking, and contributing to rapid and agile translational research. This webinar will discuss the recent changes and what our shared future of medical education will potentially look like, as well as what skills and capacities we as medical schools should develop to thrive.
Johmarx Patton: Overview
The amount of data that we collect about our education and training programs continues to grow exponentially. We have data needs for accreditation, certification, teaching activities & learning content, as well as quality improvement efforts. MedBiquitous is a long-standing data standards program that has a vast community of contributors that want to help solve these health professions education and credentialing data challenges at scale. Please join this webinar as we discuss plans for the future of the program, including the launch of our new participation model.
"MedBiquitous Community Connection" is a series of free one-hour webinars featuring health professions educators and technology innovators from around the globe. "MedBiquitous Community Connection" provides a forum for community experts to share how digital technologies are promoting improvement and better outcomes across the continuum of health professions education. A portion of each webinar will reserve time for a brief Q&A session, allowing attendees the opportunity to dialogue with guest speakers.
The virtual community, MedBiquitous ThinkTank, will be an active discussion space following each MedBiquitous Community Connection webinar. Your confirmation email will provide details on how to join.
Marc Triola
Associate Dean for Educational Informatics and Director, Institute for Innovations in Medical Education, NYU Langone Health
Marc M. Triola, MD is the associate dean for educational informatics and an associate professor of medicine at NYU Langone Health. He is the founding director of the Institute for Innovations in Medical Education, a multidisciplinary team of faculty educators, education scientists, and informaticians. IIME combines advances in education strategies with new informatics solutions to connect the three missions of NYU Langone - patient care, research, and education - resulting in a research and innovation initiative that is translational, empowers transformational change in education programs, and benefits patients. Dr. Triola's research focuses on the revolution at the intersection of health care and medical education driven by cognitive computing, big data, and advanced analytics. He has worked to create a continuously learning medical education system that includes new ways of integrating clinical data into educational research.
$i++ ?>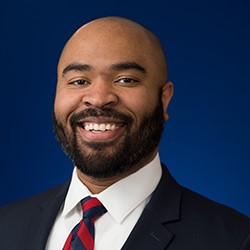 Johmarx Patton
Director of Educational Technology and Standards, AAMC
Johmarx Patton, MD is a scholar and strategist at the intersection of health professions education, healthcare, and information technology. Dr. Patton currently serves as the Director of Educational Technology and Standards at the AAMC, and is responsible for the direction and operations of the MedBiquitous program. MedBiquitous develops enabling technology standards and guidelines that empower health professions education and quality improvement leading to better patient outcomes. Prior to joining the AAMC, Dr. Patton served as the Director of Education Informatics at the University of Michigan Medical School.
$i++ ?>
Components visible upon registration.