AAMC Maternal Health Equity Webinar Series: Part 1 - April 15
This April, AAMC Health Equity Research and Policy is celebrating National Minority Health Month with a Maternal Health Webinar Series! The series kicks off during Black Maternal Health Week (April 11-17), an awareness-raising campaign for maternal health and health care disparities.
According to the Centers for Disease Control and Prevention (CDC), Black, American Indian, and Alaska Native (AI/AN) women are two to three times more likely to die from pregnancy-related causes than white women—and this disparity increases with age. Pregnancy-related deaths for black and AI/AN women older than 30 are four to five times higher than for white women. This series will highlight the unique role of academic medicine in the fight for maternal health justice and feature talks from physicians, community leaders, and researchers who are committed to eliminating these inequities.
Join the AAMC on April 15, 2020 from 1:30-2:30 p.m. ET for Part 1, with Dr. Ndidiamaka Amutah-Onukagha of Tufts University. Dr. Amutah-Onukagha will provide an overview of the factors that exacerbate maternal health disparities for women of color in the United States and provide the historical context that underpins current inequities. The presentation will also showcase organizations working to address the crisis, as well as emerging policy and legislative opportunities.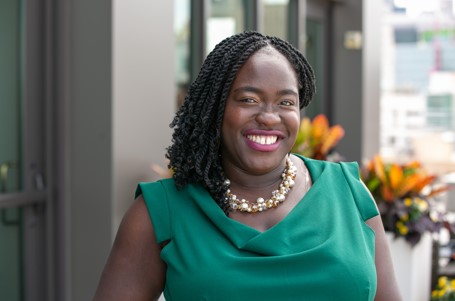 Ndidiamaka Amutah-Onukagha, PhD, MPH
Co-chair, APHA Perinatal and Womens Health committee Associate Professor, Department of Public Health and Community Medicine, Tufts University School of Medicine
Ndidiamaka N. Amutah-Onukagha received her PhD in Public Health with a focus on Maternal and Child Health at the University of Maryland, College Park School of Public Health in 2010. She received her Master's in Public Health from The George Washington University School of Public Health and Health Services in Maternal and Child Health in 2005. Dr. Amutah-Onukagha also received a BS in Public Health and BA in Africana Studies from Rutgers, The State University of NJ. Ndidiamaka has a longstanding commitment to public health that spans over 15 years of experience. Her current research interests include health disparities, reproductive health, maternal and infant mortality and HIV/AIDS in women of color. Ndidiamaka is a member of the American Public Health Association and is currently the co-chair of the Perinatal and Womens Health committee in the Maternal and Child Health section. Dr. Amutah-Onukagha is the former President of The Society of African American Public Health Issues (SAAPHI) and currently serves on the Board of Directors for the National Womens Health Network. Additionally, Dr. Amutah-Onukagha is an Associate Professor in the Department of Public Health and Community Medicine at Tufts University School of Medicine. In this capacity, her research focuses on HIV/AIDS and women of color in an urban context, adverse birth outcomes for women of color, and community based participatory research. For the past three years she has planned and hosted a Black Maternal Health conference aimed at increasing awareness around the inequities that place Black women at increased risk of maternal mortality and morbidity. This conference, one of the largest in the country has reached 700 people in the past two years and continues to grow every year. The focus of the conference in 2020 is to create a moving and community led social justice conference that seeks to galvanize community members, stakeholders, students, doulas, and community health workers in order to bring more attention to the state of Black maternal health in the United States. Ndidiamaka lives in Boston with her husband and beautiful baby boy. More information can be found on her website: www.ndidiamutahphd.com .
$i++ ?>
Components visible upon registration.