Academic Health Center of the Future-Organizational Structure; Service Lines or Departments? - September 21
Recorded On: 09/21/2021
Every year the AAMC gathers a group of medical leaders together as the Advisory Panel on Health Care (APHC) to study, discuss, analyze data and forecast future trends in academic medicine. Prior to the pandemic the APHC undertook a review of the emerging trend of service lines and how their leadership and structure is changing or conflicting with more traditional medical departments. This webinar will provide early findings from this APHC study and will include discussions with a number of institutions who are evolving in their organizational structure.
This webinar is sponsored by the Chief Medical Officers Group (CMOG) and the Group on Faculty Practice (GFP) and open to all AAMC constituents (employees of AAMC member institutions) who are interested in attending.
Please use Google Chrome, Firefox, Edge or Safari on this site. Internet Explorer will not function properly as it is too old to be compatible with the system.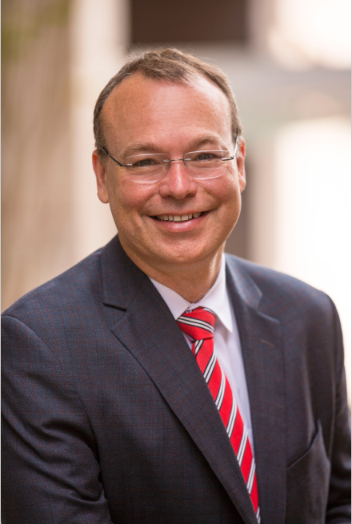 Jeffrey R. Balser, MD, PhD
President & CEO, Vanderbilt University Medical Center
Dean, Vanderbilt University School of Medicine
As the medical center's chief executive since 2009, Dr. Balser has guided extensive clinical service and facilities growth, expanding patient visits to nearly 3 million per year and annual revenues to over $5 billion (fiscal 2021). VUMC now supports the world's highest volume cardiac transplantation program, the Mid-South's largest NCI-designated comprehensive cancer center, and the Southeast's largest provider-led health affiliated network with over 60 hospitals and 6000 clinicians. Over two decades he has spearheaded an agenda to bring personalized medicine from research concepts to bedside care, integrating advances in informatics, personalized medicine, clinical trials, and precision genomics. The NIH Data and Research Support Center for the US Precision Medicine "All of Us" Program now resides at VUMC.

In 2016 Dr. Balser guided an historic restructuring process with Vanderbilt University (VU), legally and financially separating VUMC through a $1.2B public debt issuance, forming an independent, not-for profit corporation that continues its historic academic affiliation with the university. He has guided acquisitions growing VUMC from two to five regional campuses, including seven hospitals with over 1700 inpatient beds and 170 outpatient facilities, while also expanding the employed medical practice to over 3000 clinicians, the largest in the Mid-South. VUMC houses one of the nation's distinguished medical education programs with over 1100 residents and fellows training in over 150 different specialties. The School of Medicine ranks among the nation's top ten NIH grant recipients, with over $700M in annual research costs supported by government, foundation, and industry sponsors.
In 2008 Dr. Balser was elected to the National Academy of Medicine; under the 1863 Congressional charter, the academies advise the nation on science, technology, and health. Since 2018 he has been a member of the organization's governing council. He served as chair for the 2020, 50-year anniversary scientific sessions, and recently co-authored the academy's sector review on healthcare delivery organizations during the COVID-19 pandemic. He serves on the boards of VUMC, Tulane University, the Center for Medical Interoperability, and the Nashville Healthcare Council, and was a director of the public company Varian Medical Systems until its recent acquisition by Siemens.
Dr. Balser undertook internship on the Osler Medical Service, residency training in anesthesiology, and fellowship training in cardiac anesthesiology and in critical care medicine at Johns Hopkins in Baltimore, MD. He joined the Johns Hopkins faculty in 1995, where he practiced cardiac anesthesiology, ICU medicine, and led an NIH-funded research program aimed at the genomic underpinnings of cardiac rhythm disorders. He returned to Vanderbilt in 1998, was appointed chair of the Department of Anesthesiology in 2001 and became VUMC's chief research officer in 2004. In 2008/09, he was named Dean of the school of medicine and Vice Chancellor for health affairs with executive responsibility for all medicine-related educational, research, and clinical service programs, responsibilities that continue since 2016 in his role as President and CEO of VUMC and dean of the school of medicine at VU.
$i++ ?>
William Ferniany, PhD
CEO
UAB Health System
A senior leader in health care since 1975, Dr. Will Ferniany is Chief Executive Officer of the UAB Health System and the new UAB-St. Vincent's Alliance. In this role, Dr. Ferniany oversees a $5+ billion, 11-hospital health system that includes a wholly-owned insurance plan.
Dr. Ferniany holds a PhD in Administration - Health Services and a Master of Science in Hospital and Health Administration from the University of Alabama at Birmingham. His undergraduate degree is from the University of Alabama.
Ferniany has been a senior fellow in the Leonard Davis Institute of Health Economics, an adjunct faculty member of the Wharton School, the School of Health Related Professions at the University of Mississippi as well as an instructor in the University of Pennsylvania and University of Alabama's Schools of Medicine.
Dr. Ferniany has served on many regional national health administration boards including the Alabama Hospital Association (past chair), Association of American Medical Colleges, University Health Consortium, Council of Teaching Hospitals (past chair), Vizient, and the University of Miami Health System.
$i++ ?>
Janis Orlowski, MD, MACP
Chief Health Care Officer
Association of American Medical Colleges
As chief health care officer, Janis M. Orlowski, MD, MACP, focuses on the interface between the health care delivery system and academic medicine, especially how academic medical centers can leverage their expertise in research and innovation to support emerging reforms. She leads several AAMC groups, including the Council of Teaching Hospitals and Health Systems (COTH), which represents the interests of approximately 400 major teaching hospitals and health systems, including 64 Department of Veterans Affairs medical centers. Dr. Orlowski joined the AAMC after serving as the chief operating officer and chief medical officer of MedStar Washington Hospital Center, in Washington, D.C. From 2004-2013, Dr. Orlowski oversaw the medical staff, clinical care, quality, patient safety, medical risk, perioperative services, ambulatory care, and medical education programs. Prior to MedStar Washington, she served as associate vice president and executive dean of the Rush University Medical School in Chicago. Dr. Orlowski earned her bachelor's degree in biomedical engineering from Marquette University and her medical degree from the Medical College of Wisconsin.
$i++ ?>
Components visible upon registration.